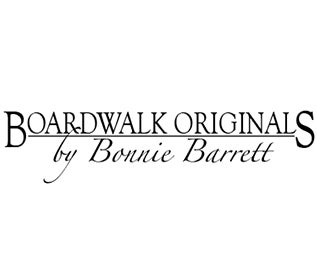 Bonnie Barrett
Bonnie Barrett is a self taught artist who started her career airbrushing artistic creations on vans, race cars and other motor vehicles. She ventured into the wholesale and retail market in 1990 opening Boardwalk Originals, a family operation she started in her basement.
Boardwalk Originals' hand painted dummy boards are found in movies, restaurants, major retail stores and small shops across the country. Bonnie is well known for her unique style, quality, and versatility. Painting is her passion.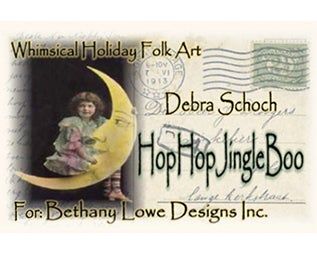 Debra Schoch
Like many artists, I am deeply influenced by antiques and collectibles. For many years, with the support of my loving husband, we exhibited at Art & Craft Shows selling my designs. During this time I learned and experimented in many types of mediums. The 'magical moment' happened when I tried Papier Mache. It is easy for me to get lost in the momemt of creating – some moments are planned while others are happy accidents. My creations all have a familar look or trait, but each is its own character. My work is colorful, humorous, silly, sweet, and sometimes even a little bit scary!!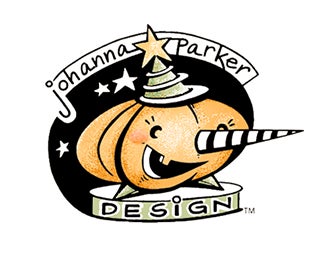 Johanna Parker
Since her early childhood, whimsical art has been a natural way for Johanna to express her creative imagination. Her artistic mother led her along the path of crafting, and encouraged Johanna to start exhibiting her Folk Art at the age of 12. Illustration and paint became the focus of her talents, and as a young adult, she was drawn to the arts in papier mache, discovering that her abilities as a painter complemented her sculptured creations. Inspired by her collections of vintage holiday novelties (and an October 31st birthday), Johanna admits that her favorite subject matter is indeed Halloween! Her wish is to spread smiles and cheer with each of her creations for future generations.
Leeann Kress
Growing up in a family of wildly creative and imaginative women, I cannot remember a day when we were not up to something artistic. Creating dolls and whimsical figures was a way of life. I owe my love of the holidays to these women who wove a magic web of merriment and mischief around me, spurring my imagination on.
Over the years, my artistic journey has taken me through several mediums such as porcelain, polymer clays, to my favorite sculpting medium, paper clay. I am honored and thankful to say my art has been featured in several doll and craft magazines over the years. Sculpting my Charmed Confections is definitely my passion and giving each a little "twinkle" in their expression brings them to life. It is my hope that collectors will find the charm in my pieces, evoking feelings of their own childhood memories. I am excited and thrilled to be part of the Bethany Lowe family of artists and share my art with you!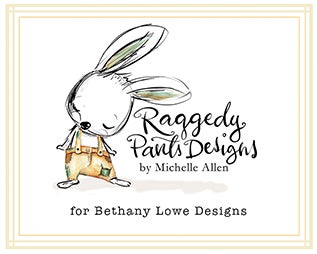 Michelle Allen - Raggedy Pants Designs
Michelle began her career in 2000 as a doll maker and pattern designer, mainly focusing on snowmen and 'raggedy type' dolls. And so, Raggedy Pants Designs came to be. After discovering stone clay in 2014 and immediately falling in love with the process, her focus turned to sculpting. She now sculpts seasonal items for Bethany Lowe Designs. She hopes her playful characters will bring warmth and happiness to all.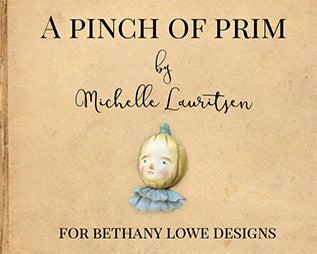 Michelle Lauritsen
As a child I loved the holidays and the tradition of decorating with the same festive collectibles year after year. Some will never be forgotten- like my little red brick house Christmas tree ornament with the fuzzy white roof, or my Rudolph ornament with the shiny red glass bead for a nose. I have always had a strong passion for art and creativity, but never knew where it would take me. Then, in 2008, I found my niche for sculpting and creating playful characters with paper clay. I enjoy incorporating new mediums to my work, adding whimsical features and unique textures that are reminiscent of my childhood past. Alongside my supportive husband, Michael, and our two children, Dylan and Casey, I'm happy to be creating art from my home studio north of Seattle, WA. My hope as an artist is to awaken joyful times and memories for people of all ages, just as it did for me.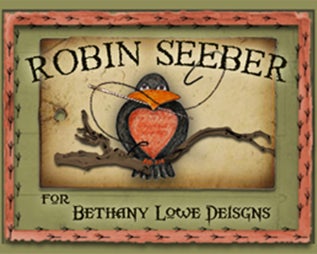 Robin Seeber
Robin was born with a whimsical imagination. Her mother and father were both also very creative. She spent much of her childhood building houses in the woods for the fairies and gnomes and rock shelters in creeks for the frogs, snakes and turtles! To this day, Robin is still inspired by fantastical creatures in fantasy movies, childhood poems, nursery rhymes, and nature.
After 21 years as an RN, she retired from nursing began designing fabric originals. She is forever grateful to her collectors and to Bethany Lowe for the rare opportunity to see her art in fine gift shops.
Robin's doll company is Outside the Box Primitives. Her work has been published in many popular craft and doll magazines. While designing for Bethany Lowe, she continues to create originals available on her website.
Robin lives on a circa 1850 farm in PA. She and her husband have 6 children and 8 grandchildren; along with horses, cats, and a pair of ducks called Charlie and Maisy Floater.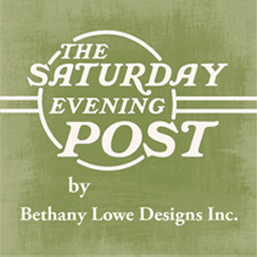 Saturday Evening Post Collection
For nearly 300 years, The Saturday Evening Post has chronicled American history in the making—reflecting the distinctive characteristics and values that define the American way. Tracing its roots to Benjamin Franklin, The Saturday Evening Post mirrors cherished American ideals and values, most memorably illustrated by its iconic cover artist Norman Rockwell.The Post went on to feature artwork from over 500 illustrators including J.C. Leyendecker, N.C. Wyeth, John Falter and Stevan Dohanos. The Post is also known for publishing such literary greats as Ray Bradbury, Agatha Christie, William Faulkner, F. Scott Fitzgerald, Edgar Allan Poe, J.D. Salinger, and Kurt Vonnegut, to name a few. Having been at the side of Americans in various forms since 1728, through the events and cultural shifts that have shaped the country's character, The Saturday Evening Post remains America's Magazine.
Artist Submissions
To submit your artwork to Bethany Lowe for consideration as a Licensed Artist, please email a letter of introduction, a short biography, a description of your designs, and photos of your work to:

[email protected]